Quadricep Augmentation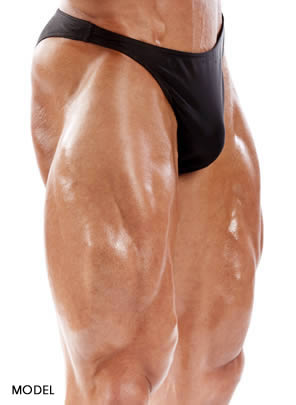 INTRODUCTION TO QUADRICEP AUGMENTATION
Solid silicone prostheses have been used in multiple areas of the body to give volume to an area that is devoid of substance either due to trauma, post oncologic procedures, and in those who suffer from hypoplasia of a given muscle group due to congenital myodystrophies. In the past decade, it has been the experience of Dr. Chugay that patients are seeking for ways to bulk up further in muscle regions that may be unresponsive to conventional exercise routines. Recently, patients with HIV or on Highly Active Antiretroviral (HAART) therapy have presented to Chugay Cosmetic Surgery seeking bulk in areas that have been ravaged by muscle wasting. It was to that end that a custom silicone implant was devised for a patient to treat muscle wasting in the anterior thigh, which he found particularly vexing.
To further expand the use of a quadriceps implant, one may consider its use in patients that are fit but wish to further enhance the volume in the anterior compartment of the thigh. The quadriceps muscles make up the majority of the volume in the anterior thigh. A person that wishes to increase volume in the anterior thigh has to do more than just cardiovascular work, but has to take time and focus in on building up the quadriceps muscles. Many trainers and bodybuilding authors agree that an intensive bodybuilding routine is required to build muscle in the anterior thigh; for some, the intensity of this routine may be prohibitive in getting a "bulked up" quadriceps region.
Quadriceps Implant: Cosmetic Improvement To The Anterior Thigh Region In A Patient Suffering From HIV Muscle Wasting PDF
INDICATIONS
Quadriceps augmentation surgery is indicated in patients that have a defect in the anterior thigh region after trauma or post-oncologic procedures. It is also indicated for augmentation of the anterior thigh due to muscle wasting. Finally, there may be a role for quadriceps augmentation in patients who persistently have hypoplasia of the anterior thigh and wish to have an enlarged thigh volume for cosmetic reasons.
LIMITATIONS
The current quadriceps implant does not alter the appearance of the vastus lateralis or medialis as it has not been developed to be that large in size and its augmentation scope is limited to the area of the rectus femoris and vastus medialis.
POSTOPERATIVE CARE / INSTRUCTIONS
Postoperatively the patient may begin ambulating starting on the evening of the procedure. They may shower on the second postoperative day, making sure to keep dressings clean and dry the Robbins tape with a hair dryer on a low heat setting. Patients are then allowed to begin light activity at week 2 and full unrestricted activity at weeks 4-6. Patients are asked to wear an ACE wrap around the thigh for four weeks post-operatively to prevent dead space, thereby helping to reduce the risk of seroma formation. The legs are to be elevated as much as possible to allow for better lymphatic/venous drainage. Patients are prescribed both narcotic analgesics along with muscle relaxants (diazepam 5 mg every 8 hours as needed for spasm) to assist with postoperative pain.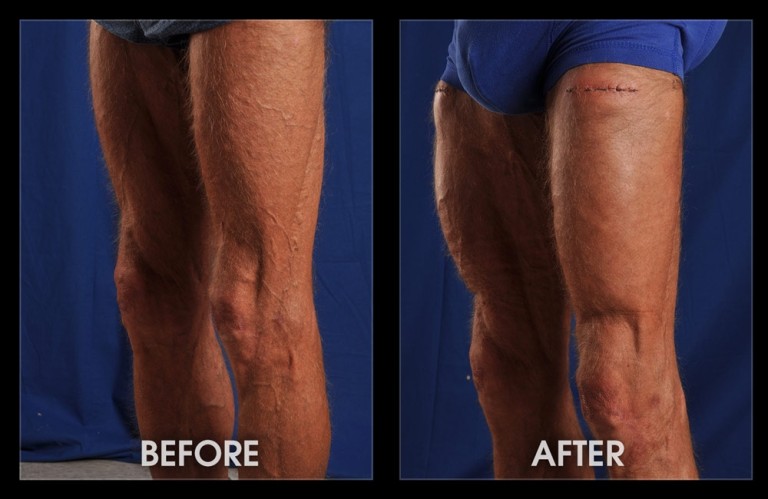 *INDIVIDUAL RESULTS WILL VARY. IMAGES DO NOT CONSTITUTE A PROMISE OR REPRESENTATION OF ANY PARTICULAR OUTCOME OR EXPERIENCE.
COMPLICATIONS
In performing quadriceps augmentation, there is a host of complications that can arise:
Potential Complications of Quadriceps Augmentation Surgery
Infection
Seroma
Hematoma
Asymmetry
Implant visibility
Hypertrophic scarring
Hyperpigmentation of the scar
Capsular contracture
Wound Dehiscence
Nerve injury (permanent or temporary; motor or sensory)
Compartment Syndrome
CONCLUSION
A semi-solid silicone implant can be used as a means of increasing volume to the anterior thigh in patients with HIV or on HAART therapy and may have a role in purely cosmetic augmentation of the anterior thigh.