Restylane Kysse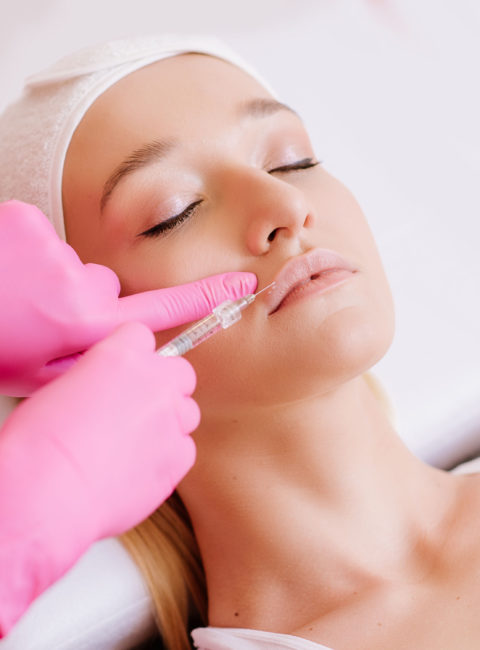 Your lips are frequently the focus of attention. They take center stage each time you speak, laugh or smile and play an integral role in defining your facial aesthetic. Many people with naturally thin lips wish to enhance them for a fuller and more shapely form, while others who develop volume loss and wrinkles with age want to restore a more youthful look. Restylane Kysse is the newest product that promises to add fullness to your pout and combat signs of aging without surgery.
What Is Restylane Kysse?
Restylane Kysse is an injectable dermal filler composed of hyaluronic acid (HA), a naturally-occurring sugar found in the body that gives the skin elasticity, moisture and volume. Kysse is unique among HA fillers thanks to its manufacturer's XpresHAn (pronounced "expression") technology, which changes the way the hyaluronic acid binds inside the lips. The XpresHAn manufacturing process creates a gel that integrates into the tissue where it is injected. Rather than creating a firmer, more structured result that can look and feel unnatural, Restylane Kysse blends seamlessly with your own lips for a soft feel and natural expression in motion.
What Concerns Can Restylane Kysse Improve?
Restylane Kysse is used in and around the lips to:
Add fullness to the lip body
Define the lip edges (vermillion border)
Correct asymmetries in lip shape or size
Smooth vertical wrinkles (perioral lines)
Give the lips a softer, more supple feel
What Are the Benefits of Restylane Kysse?
This sophisticated addition to the Restylane family offers many advantages for patients who want to enhance their lips, including:
Nonsurgical and minimally invasive
FDA approved
Quick and convenient in-office treatment
Safe for all skin types, including sensitive skin
Comfortable injections, since the product contains lidocaine
Little to no downtime
Maintains natural-looking facial expressions
Results can last up to one year
What Happens During a Restylane Kysse Procedure?
Lip injections with Restylane Kysse are safe, comfortable and convenient. Your injector will begin by assessing your lips, reviewing your health history and discussing your treatment goals. This conversation will determine whether Restylane Kysse is right for you, as well as the optimal amount of product for your needs. Your injector will then sterilize the treatment area and apply a topical anesthetic to enhance your comfort. Once the numbing agent has taken effect, Restylane Kysse can be administered to the targeted areas with an ultra-fine needle until the desired result is achieved. The procedure is short enough to fit into a lunch hour or a break between errands.
What Does Treatment With Restylane Kysse Feel Like?
Restylane Kysse is formulated with lidocaine, a commonly used local anesthetic, to reduce pain during injection. You may notice a small pinch when the injection is administered, but overall the discomfort most patients experience is minimal.
Is Restylane Kysse Safe?
Restylane Kysse was tested in a clinical study to confirm its efficacy and safety before it was approved for use. Although it is new in the United States as of 2020, it has already been available in international markets. The FDA has approved Restylane Kysse lip fillers for use in adults 21 years of age and older. If you experience complications, or simply decide lip fillers are not for you, the product can be dissolved with an enzyme that accelerates the natural breakdown of hyaluronic acid.
Can I Resume Normal Activities After Receiving Restylane Kysse Injections?
Lip fillers do not have to disrupt your day. When your treatment is done, you may resume most normal activities without interruption. Temporary redness, swelling, bruising and/or itching may occur at the injection site. Avoid strenuous exercise and exposure to excessive heat, sun or UV lamps for the first 24 hours after your appointment to lower the risk of experiencing unwanted side effects.
What Results Can I Expect From Restylane Kysse?
The results of your lip injections will be apparent right away. Restylane Kysse instantly adds volume to your lips, creating a softer and more pillowy pout and improving definition at the borders. As wrinkles are filled out, your lips will appear revitalized and makeup application will be smoother. The benefits of your treatment will last until the product is broken down and safely absorbed by your body.
How Many Restylane Kysse Treatments Will I Need?
Hyaluronic acid fillers are long-lasting, but they are not permanent. One of the factors that influence the longevity of dermal fillers is the location of the injections. Fillers typically do not last as long in areas that are subject to more movement, like the mouth. Restylane Kysse, however, is formulated specifically for the lips and is more durable than other lip fillers. Restylane Kysse is proven to last for six to nine months, and may last up to one year in some patients.
Am I a Good Candidate for Restylane Kysse Injections?
Restylane Kysse is available for patients in their 20s and 30s who are looking to enhance the shape and size of their lips, as well older patients who wish to restore volume and definition to their lips. Most women and men can safely undergo treatment with this product. Patients who are allergic to anesthetics, have had previous experience with allergic reactions to HA fillers or have severe allergies generally may not be good candidates for Restylane Kysse. Dermal fillers are not recommended for women who are pregnant or breastfeeding.
Learn More About Restylane in San Juan Capistrano
If you're interested in experiencing this innovative new injectable for yourself, schedule a consultation with an experienced provider near you. In South Orange County, the expert team at Gravity Med Spa offers a range of dermal fillers for your aesthetic needs alongside numerous other cosmetic treatments for the face and body. Contact us today at 949-387-6118 to request more information about Restylane Kysse or book an appointment with Dr. Tonya Boudreaux.