Restylane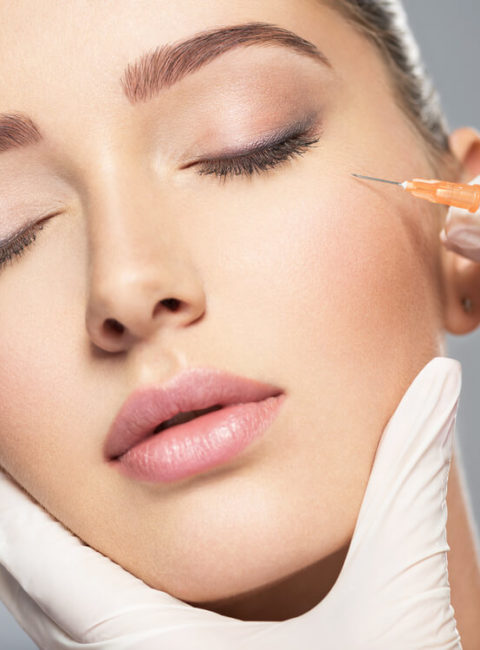 Your skin, just like every other part of your body, changes over time. Some of these changes arise from internal factors (genetics, the natural aging process) while others result from external influences (sun exposure, gravity, stress, smoking). The field of medical aesthetics has developed innovative ways to combat signs of aging in the face and body, including many nonsurgical facial rejuvenation procedures that can be performed with cosmetic injections like Restylane.
What Is Restylane?
Restylane is a popular dermal filler made from hyaluronic acid. When injected, Restylane temporarily restores a firmer, plumper and younger-looking appearance to your skin. The Restylane family of dermal fillers contains multiple products designed to address different cosmetic concerns for the face, lips and hands:
Restylane is formulated to add volume and fullness to the skin to fight moderate to severe signs of facial aging. Restylane can also be used to enhance the lips.
Restylane Silk is formulated for lip augmentation and the softening of lines around the mouth. The gel is smoother than other Restylane products, resulting in a softer and more precise result.
Restylane Lyft is formulated to add natural-looking volume to the cheeks and the back of the hands. It is the only hyaluronic acid-based filler with FDA approval to treat the face and hands.
Restylane Refyne is formulated to soften laugh lines (nasolabial folds) while maintaining your natural facial movement and expressions.
Restylane Defyne is formulated to fill out deep laugh lines and lines that run from the mouth to the chin (marionette lines).
How Does Restylane Work?
All Restylane products are clear and colorless gels that are specifically formulated to act like your body's naturally-produced hyaluronic acid. Hyaluronic acid and collagen play important roles in maintaining the hydration, elasticity and fullness of your skin. As you age, your body produces less of these key components of youthful skin, causing your skin to become thinner, drier and looser. The result is wrinkles and sagging skin that can make you look tired, stressed and older than you feel.
Restylane injections instantly plump your skin, fill wrinkles and lift your facial features. The hyaluronic acid in the formula attracts water, helping to hydrate and add volume to your skin while smoothing lines, wrinkles and folds. Over time, Restylane stimulates collagen growth to strengthen your skin's underlying supportive structure. Your results last until the product is naturally broken down and absorbed by your body.
What Concerns Can Restylane Improve?
Depending on which formula is used, Restylane can:
Improve moderate to severe facial wrinkles and folds, such as:

Nasolabial folds
Marionette lines
Vertical lip lines

Add volume and definition to the lips
Restore volume to the cheeks
Lift and contour the midface
Contour the nose, chin or jawline
Reverse signs of volume loss in the back of the hands
How Does Restylane Compare to Other Injectables?
There are many different types and brands of dermal filler available. Each one varies in consistency, composition and longevity, even within the Restylane family itself. Your injector will suggest the filler that is most appropriate for your concerns, the area of treatment and your desired results. The category of cosmetic injectables also includes products designed to relax wrinkles by temporarily inhibiting muscle movement (Botox) and a product designed to reduce fat under the chin (Kybella). In some cases, a combination of two or more injectables is recommended for optimal facial rejuvenation.
What Are the Benefits of Restylane?
Treatment with Restylane offers many advantages, including:
Minimally invasive and nonsurgical
FDA approved
Safe for all skin types
Customized to the individual's concerns and desired outcomes
Minimal risk of allergic reaction
Little to no discomfort
Quick and convenient treatment sessions
No downtime
Improvements visible immediately after treatment
Long-lasting and natural-looking results
Combines well with other anti-aging and skin rejuvenation treatments
What Happens During a Restylane Procedure?
Treatment with Restylane is safe, comfortable and relatively quick. Your injector will begin by examining your area of concern and discussing your treatment goals. This conversation will determine the optimal number and location of Restylane injections for your needs. Your injector will then sterilize the treatment area, mark the sites to be injected and apply a topical anesthetic to maintain your comfort throughout the procedure. Once the anesthetic has taken effect, Restylane can be administered to the target areas. Appointment length varies depending on the extent of treatment, but most Restylane sessions fit easily into a lunch break or any other time that's convenient for you. The procedure usually takes less than 30 minutes to complete.
What Does Treatment With Restylane Feel Like?
Most patients do not find Restylane injections to be excessively painful. The use of topical anesthetic and ultrafine needles ensures the treatment is as comfortable as possible. Some Restylane products are formulated with the anesthetic lidocaine to further increase comfort during the procedure. You may only feel a quick pinch when the injection is administered. If you are concerned about pain, let your injector know. We want your procedure to be as convenient and comfortable as possible.
Is Restylane Safe?
Restylane is FDA-approved for use in patients over 21 years of age. There are minimal risks associated with Restylane, many of which can be avoided by choosing an experienced injector. Restylane can be safely and rapidly dissolved with an injection of hyaluronidase, an enzyme that accelerates the natural breakdown of hyaluronic acid, if you experience complications or decide Restylane is not for you. To ensure a safe procedure, consult with a professional to determine if you are an appropriate candidate for treatment before proceeding.
Can I Resume Normal Activities After Receiving Restylane Injections?
Patients typically do not require downtime after treatment with Restylane. You will likely be able to return to work or other daily activities as soon as your session is over, though you may want to give yourself a day to recover if you are sensitive to injections or have had a larger number of injections administered. We recommend avoiding sun exposure, strenuous exercise, extreme temperatures and excessive alcohol consumption for the remainder of the day. Side effects of Restylane injections — including tenderness, redness, swelling, bruising, pain or itching at the injection site — are usually mild and subside within a week.
What Results Can I Expect From Restylane?
Results from Restylane injections are visible as soon as the injection session is complete. Restylane instantly adds volume to the treated area, yielding fuller lips, more lifted facial contours, or a smoother and more youthful complexion without surgery. Hyaluronic acid fillers are long-lasting, but not permanent, treatments. Your body will eventually break down and absorb the product naturally. Multiple factors influence the longevity of your injections, including your physiology, your facial movements, the location of the injections and which Restylane product was used. Most Restylane patients can expect to enjoy their results for six to 18 months.
How Many Restylane Treatments Will I Need?
The number of injections required at each individual session varies from patient to patient, depending on the degree of correction sought and the treatment plan prepared by the injection specialist. One initial treatment is usually sufficient to achieve a good result, though some patients may require a second session if they are treating an extensive area. Your results will gradually fade as the hyaluronic acid dissipates. Maintenance appointments are necessary to continue seeing the volumizing benefits of Restylane. We will work with you to create a personalized treatment plan that makes sense for your schedule and your unique body chemistry.
Can Restylane Be Combined With Other Treatments?
Restylane combines well with other injectables for enhanced facial rejuvenation. Patients who wish to undergo a more extensive transformation often choose to combine Restylane treatments with other nonsurgical procedures, such as Microneedling or HydraFacial, that further improve the health and appearance of the skin. For the most dramatic anti-aging results, Restylane injections can be used to complement a cosmetic surgical procedure, such as a facelift or neck lift. Restylane can also be very effective as a solo procedure for patients who do not need surgery to achieve their goals, do not want to undergo a more invasive procedure or do not meet the requirements to be considered a candidate for surgery.
Am I a Good Candidate for Restylane Injections?
Most men and women over the age of 21 who improve facial contours or reverse signs of aging without surgery are potential candidates for Restylane. The ideal Restylane candidate is physically healthy, is not pregnant or nursing, and has reasonable expectations of the results dermal fillers can achieve. You may not be a candidate for Sculptra injections if you have severe allergies, have recently used medication that thins the blood or prevents clotting, have a bleeding disorder or have a history of scarring. The best way to determine whether Restylane is a safe and effective treatment option for you is to schedule a consultation.