Non Surgical Brazilian Butt Lift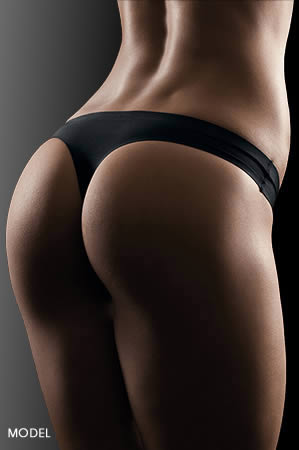 Not a day goes by that patients don't come in wanting a bigger butt.  The Brazilian butt lift (liposuction with fat transfer to the buttocks) has become one of the most popular procedures performed as sited by the American Society of Plastic Surgery and the American Academy of Cosmetic Surgery.  Hollywood entertainment and recording stars like Jennifer Lopez and Kim Kardashian have made big butts all the rage.
From a surgical stand point, we offer liposuction with fat transfer and buttock augmentation to help improve the buttocks.  However, not every patient comes in with enough fat for a successful augmentation; and, other patients are not necessarily ready to place a solid silicone implant to give their butt more volume.
At Gravity Medical Spa, we offer a third option which is placement of filler into the buttocks to achieve a larger and rounder bottom.  As one of the few practices in Orange County offering non-surgical buttock augmentation ("non-surgical Brazilian butt lift"), we can help you achieve a more curvy figure without the need for surgery.
We use Sculptra Aesthetic® to provide a long-lasting improvement in your buttocks.  Sculptra® (FDA approved injectable poly-L-lactic-acid) is currently used for improvement in volume of the face, particularly in patients who have very sunken and hollow faces. It provides a longer term correction versus hyaluronic acid filler (such as Perlane or JUVÉDERM). It helps gradually replace lost collagen and provides results that can last for more than two years*.
We can now use this long-lasting filler to help achieve improvement in your buttocks to give you a rounder, plumper bottom side.
Multiple sessions of injection can be utilized to achieve a rounder bottom.
Typically 2 vials of Sculptra® (one per butt cheek) is used at the injection session.
The Sculptra® is mixed with lidocaine and water to produce an injectable liquid that numbs as the injection is being performed.
Using a needle, then, the product is injected into areas marked before the procedure with patient verification.
You will immediately see a result, largely from the liquid component being utilized.
This will slowly be absorbed in the coming weeks and be replaced by your body's natural collagen.
After 3-4 weeks, the results are evaluated and further sessions can be scheduled.
Typically, patients will benefit from 2-3 sessions to achieve a noticeable improvement in their buttocks.