SculptPatch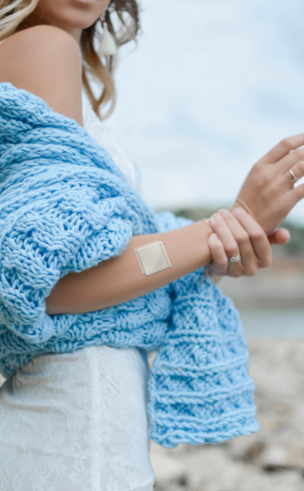 A trim and toned body is a dream of so many of our clients. Many people work toward this goal for years, exercising, eating well and trying every trick they can to achieve a fitter figure — but despite all best efforts, stubborn fat often remains, and it becomes time to take a different approach.
At Gravity Med Spa, we frequently consult with clients who are interested in learning about their options for noninvasive body contouring. These procedures are among the latest and greatest choices for banishing hard-to-shed body fat with no surgery, no anesthesia and no downtime. One option consistently comes out on top: CoolSculpting.
We were excited to bring CoolSculpting to San Juan Capistrano and now we're excited to take it to the next level. SculptPatch is the latest aesthetic technology that can enhance your body sculpting results and give you the physique you deserve. This natural, hypoallergenic and vegan patch is designed to decrease discomfort after a CoolSculpting treatment, promote fat cell removal and support your overall body shaping goals. We are pleased to offer SculptPatch alongside CoolSculpting for the ultimate body contouring experience. Please contact our office to schedule a consultation and find out more about how these treatments can benefit you.
What Is SculptPatch?
SculpPatch is a topical supplement patch that's as easy to apply as a bandaid. The patch is specially formulated to support fat loss procedures like CoolSculpting. CoolSculpting destroys fat cells in the body through a process called cryolipolysis. The targeted fat cells die in the weeks after a treatment session and are gradually cleared away by the body's lymphatic system. The ingredients in SculptPatch assist the lymphatic system in removing dead fat cells, while minimizing unwanted post-treatment effects and maximizing the treatment's results by reducing appetite and increasing energy.
When CoolSculping is combined with SculptPatch, the treatment can achieve even more dramatic and long-lasting results.
What Is SculptPatch Made Of?
SculptPatch consists of several all-natural ingredients, each of which plays a key role in supporting fat reduction. These ingredients include:
Vitamin B12 – Vitamin B12 plays a role in many bodily functions, including energy production and metabolism. It helps improve energy and focus throughout the day.
Goldenseal and myrrh – Goldenseal and myrrh have anti-inflammatory properties and improve lymphatic function.
Garcinia cambogia – Garcinia cambogia is a fruit extract with appetite-suppressant properties
Echinacea – Echinacea boosts the immune system and decreases swelling in the lymphatic system
Because SculptPatch is applied topically, as opposed to being taken orally, all of these vital ingredients can instantly enter the bloodstream. The patch offers better and faster absorption because the ingredients do not need to go through the digestive system.
How Does SculptPatch Work?
SculptPatch should be applied to an area of the body where there's little or no hair. Ideal areas include the shoulder, hip or under the forearm. One patch should be applied in the morning and remain on the skin for eight hours. While applied, its ingredients will gradually be released over the eight-hour time frame. Wearing the patch longer than eight hours is not recommended, as it may cause itching. It also should not be worn overnight because of its energy-stimulating qualities. A new patch should be applied every day.
A SculptPatch pack comes with 90 patches, making it a 90-day treatment. This timeframe correlates with the amount of time it takes for the body to flush out dead fat cells after a CoolSculpting treatment. During the 90 days, clients report feeling less hungry, having more energy and experiencing decreased swelling or redness caused by their body sculpting procedure. SculptPatch use can be continued for as long as they desire, until they reach their body goals.
Can I Use SculptPatch If I Haven't Had a Body Sculpting Treatment?
Yes! SculptPatch isn't exclusively meant for people who've had CoolSculpting or another body contouring treatment. The patch can be used by anyone seeking an extra boost for their regular diet and exercise routine.
SculptPatch at Gravity Medical Spa
SculptPatch is an exciting new technology for anyone seeking to improve their health or ensure successful results after a body sculpting session. Whether you want help sustaining energy throughout the day, keeping your appetite in check or making the most of a CoolSculpting treatment, SculptPatch is a simple, safe solution.
Dr. Tonya Boudreaux, an expert in transformative cosmetic treatments, is excited to now offer SculptPatch at Gravity Medical Spa in San Juan Capistrano, CA. If you're interested in learning more about SculptPatch or would like to combine it with your CoolSculpting procedure, please contact us at (949) 387 6118 or visit our contact page.