Microneedling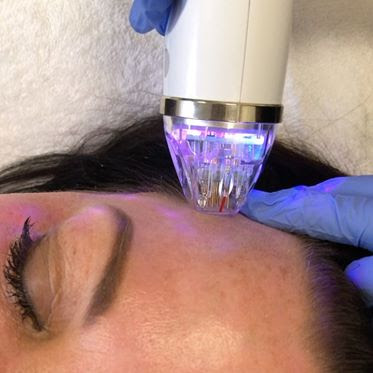 Millions of cosmetic treatments, surgical and nonsurgical, are performed every year. But as more and more products begin to flood the cosmetic market every year, microneedling remains one of the most popular treatments available to patients looking to improve their skin's appearance.
There are many reasons why microneedling continues to see countless treatments worldwide, but the most straightforward answer is that it simply provides results. And despite an abundance of treatment options, finding a treatment that offers real results is becoming increasingly difficult.
What Is Microneedling?
Microneedling, sometimes known as collagen induction therapy, is a medical procedure that involves puncturing the facial skin with hundreds of tiny lesions. These needles enter into many different layers of skin, stimulating the natural healing process.
During that process, the body floods the "damaged" area with growth factors and proteins like collagen, which are directly responsible for keeping our skin taut, smooth and vibrant. Once this process is complete, patients will experience decreased skin ptosis, improved skin texture and even a brighter complexion.
The wounds are negligible and painless. They will not leave behind any scarring or have any adverse effect on the facial skin. In some cases, substances and serums are added to the skin as the needles puncture the skin to boost the results.
Microneedling Options
AQUAGOLD
Technically, AQUAGOLD is not a microneedling device — it is a microinjection device that performs a similar function to microneedling. The difference between the two is that microneedling focuses primarily on the tiny incisions in the skin, while AQUAGOLD focuses on delivering a specialized serum into the skin via microinjectors.
Similar results are achieved, but AQUAGOLD is much more adept at getting a new substance into the skin. We offer both options to our patients so that people who do not have good results from one treatment can instead give the other a chance.
Microneedling
This is the classic procedure that involves a series of microwounds on the skin to stimulate protein and growth factor production. For many people, microneedling is a reliable and easy way to quickly improve the appearance of their skin. It also provides a solid foundation for our two other more complex treatments, allowing you to have a much wider variety of options when seeking treatment.
There is very little recovery time associated with a microneedling procedure, making it perfect for people with tight schedules and responsibilities they have to stay on top of. It is also much more affordable than surgical options, which can run into the thousands of dollars for a single surgery and pose a lot more risk.
RF Microneedling
Radiofrequency microneedling is a two-punch treatment that uses controlled physical damage (needles) with light damage (radiofrequency). The goal of the treatment is exactly the same, but the practice of using radiofrequency alongside needles means more thorough coverage of the skin and the areas between the microwounds.
This is often a better choice for patients who are experiencing more drastic effects from the aging process. Radiofrequency is also better at treating discoloration concerns, which might make it more ideal for someone with a more significant focus on removing hyperpigmentation like melasma, sunspots or acne scarring.
Scarlet RF Microneedling
Scarlet radiofrequency microneedling is a specific brand of RF microneedling treatment. It combines microneedling and RF treatment, but it emits a unique teardrop shape of energy that is particularly effective at addressing signs of aging.
This is one of the most versatile microneedling treatments since it can address an array of different concerns, such as acne, acne scars, volume loss, rosacea, skin ptosis, large pores, spider veins, sun damage, scarring, fine lines, wrinkles, uneven skin tone and dullness.
Why Is Microneedling Still So Popular?
But if the new products are using cutting-edge research and technology, why isn't microneedling getting phased out? The answer is pretty simple. At its most fundamental, skin rejuvenation is about correcting the issues that arise from environmental exposure and age.
Many treatments that look to solve those problems rely on chemicals or surface treatment to correct issues that are much more deeply rooted. Microneedling, and its use of fine needles, can enter the skin that few other therapies can reach.
In fact, one of the only other treatments that can get as far down into the dermal layers is laser treatment. But microneedling also has the advantage of treating the surface layer of skin, an area sometimes ignored by laser treatments.
Which Microneedling Treatment Is Right for Me?
The only way to know which treatment would be most effective for you is to schedule a consultation with our office so one of our highly trained and experienced staff members can review your medical history, examine your condition and listen to your aesthetic goals.
Premiere Microneedling at Gravity Medspa
There may be some form of trial and error involved with this process since everyone reacts to treatments differently. But we are confident that we can work as a team to find the best possible solution to your aesthetic concerns. Give our San Luis Capistrano office a call at (949) 387-6118. You can also fill out our online contact form to have a team member get back to you at a more convenient time.